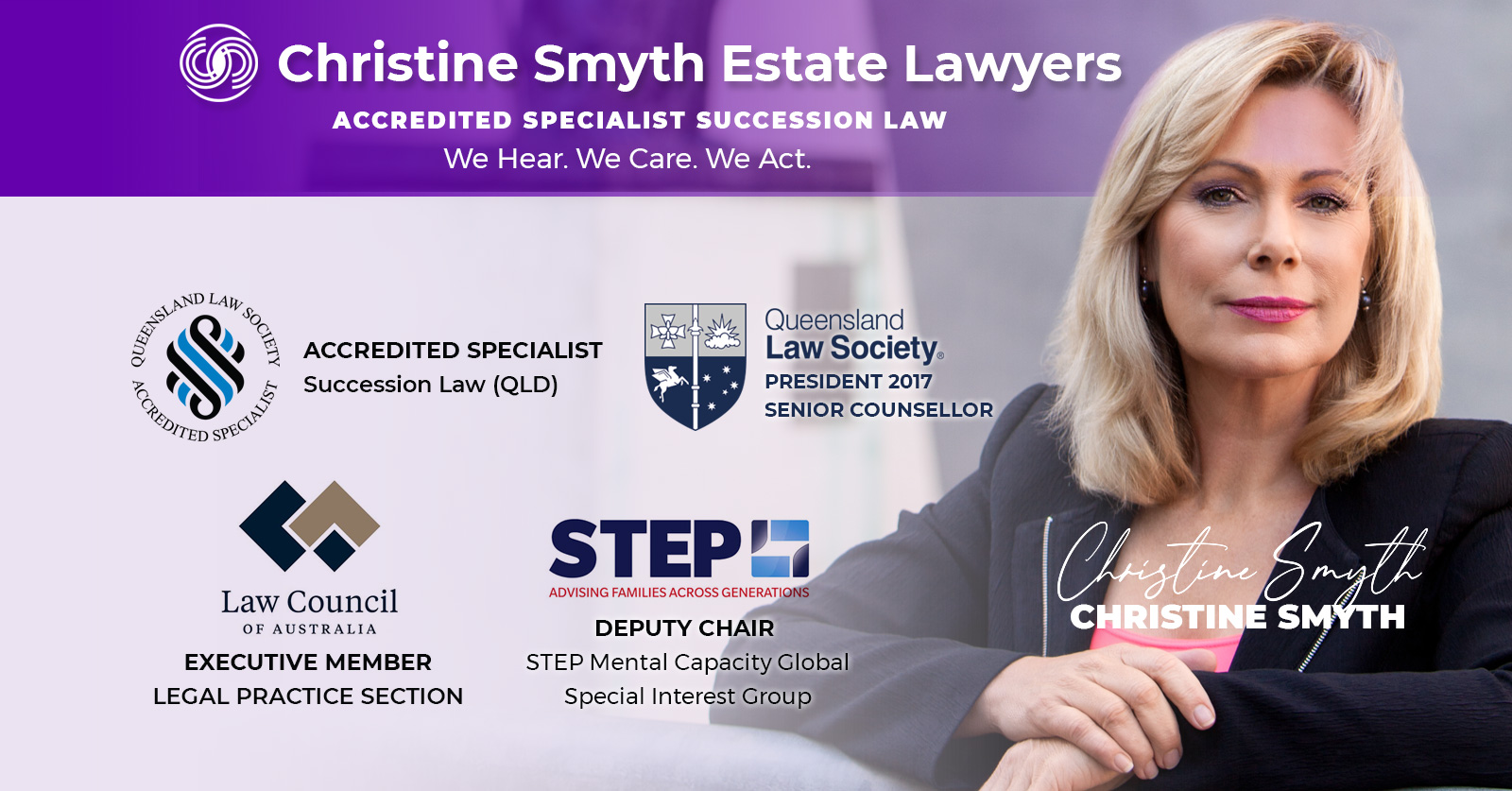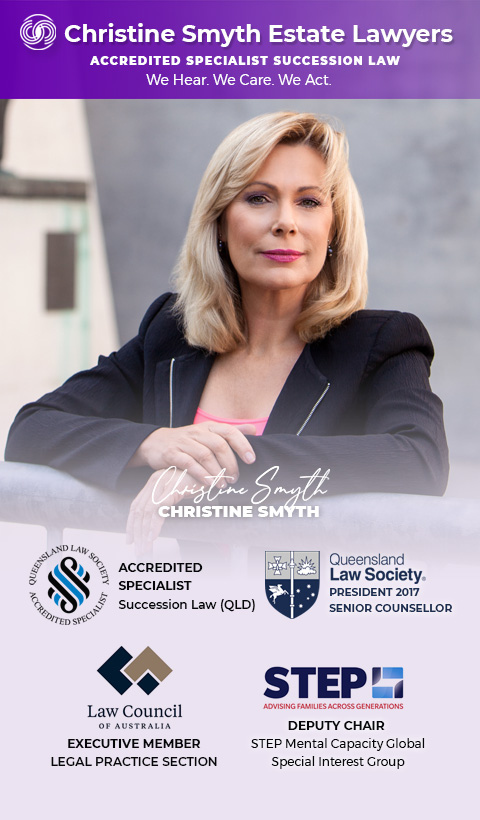 We Hear. We Care. We Act.
Christine believes in the dignity of autonomy, self determination and the right to be supported in your choices at all stages of life. With over 25 years legal experience across Australia, there is no one more qualified to guide you in managing your elder law and estate affairs. You only have one life. You deserve the highest quality expertise and the right experience to support you. You and your family deserve the best.
We hear your concerns, we care about what is important to you, and we act on your instructions in a way that works for you.
Contact Us Today
No matter where you are, we are here for you. Whether you are seeking experienced: advice, action, alternatives, or if you simply feel wronged and need the right lawyer, contact us today for a meeting: in person, virtual, or telephone.
Testimonials
Mrs H.H.
It has been a privilege to have been supported through legal matters by Christine Smyth, and I wish to express my gratitude to her as she guided me through the duties required of me as Executor. Christine exhibited compassion and sincerity whilst dealing with my feelings of sadness and loss, and also the professionalism necessary to assist me to complete those duties.
I admire the expertise and attention to detail that she offered, and feel fortunate to have been associated with her. She is a very personable, confident and obviously dedicated Solicitor.
Mrs H.H.
Mr R.G. B.
As an Executor of a deceased Estate, I am pleased to say Christine has handled the ongoing administration admirably. I have had robust debates with her on the administration, and we have always come to agreement on the appropriate way forward. She is skilled in all the matters needed in this Estate." "Christine has a forceful personality, with foresight and guidance as needed, while respecting the Executors' independent roles. She is professional in her approach and a person of integrity, attending to our requirements efficiently. The occasional light-hearted comment helps in relationships and getting the job done.
Mr R.G. B.
Ms. B.J.
I was very close to Dad and his death was a great loss. The administration of his Estate was handled by Christine Smyth…who demonstrated a level of professionalism, kindness and understanding which was amazing. I was kept informed of what was happening throughout the entire process of finalising Dad's Estate, and my queries were always dealt with promptly.
Christine's knowledge of Estate matters and her ability to explain legal issues was outstanding. I cannot really put into words my gratitude. Be assured that I will continue to recommend your practice to anyone in need of legal advice.
Ms B.J.
Colin Fleming – Colin Fleming & Co Solicitors
Christine Smyth is a colleague who I initially got to know as a fellow member of the Queensland Law Society Succession Law Committee.  This body makes submission to the Queensland Government on succession law, and deals with the judges committee on estate administration. My point being that  I associate with some very high achievers and recognise Christine as one of the highest performing solicitors I know. Others too acknowledge her knowledge and her attention to detail. This is why Christine is invited to deliver papers all over, at least the east coast of Australia to other lawyers.  The nicest part about her is she is not one of the disconnected self-focused academics- she is quite the opposite.  Her willingness to help others is as strong as her professionalism and her understanding of all areas of succession law.
Christine's leadership, listening and advocacy skills are evident with her election as a member of what the lay person would call the Board of Directors of the Queensland Law Society.
I unreservedly recommend Christine to clients seeking an expert whose excellence in her service to her clients is only surpassed by her dedication to them.
Colin Fleming
Colin Fleming & Co Solicitors
George Passas, Chief Executive Officer, Eastern Suburbs Memorial Park
This note is to thank you for conducting the recent seminar for our sales and operational staff entitled 'Rights & Responsibilities, Disputes – How are they Resolved?' Christine, clearly your extensive knowledge of Succession Law was an advantage, but what mattered was your ability to simplify it for the 'layman' and to present it in a fun and interactive way.  Again, thank you.
George Passas
Chief Executive Officer, Eastern Suburbs Memorial Park
Mr Rob Stevenson, Principal, Australian Workplace Lawyers
I have had the privilege of knowing, trusting and respecting Christine Smyth for in excess of 20 years and unreservedly recommend her specialist skills to any client seeking advice about inheritance law.
Mr. Rob Stevenson
Principal, Australian Workplace Lawyers
Michael McMahon, President of the Cemetaries and Crematorium Association of NSW
Christine has been active with the Cemetaries and Crematorium Association for a number of years, presenting to our members at a number of general meetings and conferences, providing the latest information and case studies on the current issues facing our industry.
Christine is a power house of information, an expert on Succession Law and Estate administration.  These particular skills in the areas of inheritance law has provided our members with the most knowledge in handling difficult questions on ownership, transfers and custodial issues facing families with the rights to burials.  Christine has been invaluabel to us in our roles in managing complex family issues resulting from burials and ownership. – Michael McMahon, President of the Cemetaries and Crematorium Association of NSW
Michael McMahon
President of the Cemetaries and Crematorium Association of NSW
Rob Luscombe, Cemetary Services Manager, Sunshine Coast Regional Council & President, Qld Cemetaries and Crematoria Association
The Queensland Cemetaries and Crematoria Association has a long standing relationship with Christine.  Christine speaks about industry specifics in plain english while also providing professional and specific details.  Her legal knowledge regarding the industry is immense, however her general knowledge of the cemetary industry itself shows a dedication and passion not seen by many others.  Her presentations are succinct and detailed while providing answers in easy to understand terms.  She is always willing to answer any questions put to her and if she is unable to answer it her replies are prompt and detailed.  When we are selecting conference speakers, Christine is always high on our list of preferred candidates.
Rob Luscombe
Cemetary Services Manager, Sunshine Coast Regional Council & President, Qld Cemetaries and Crematoria Association
Renee Gamble – Director at BISCosgrove
I have had the pleasure of working with Christine on a number of our mutual clients. Her extensive knowledge and the results that she has achieved for my clients, coupled with the absolute passion that she has for her field have made Christine my "go to" for my clients legal issues. Christine is the rare professional who is able to communicate effectively at all levels whilst maintaining a personal approach. And the feedback from my clients has been unfailingly positive which is the ultimate litmus test!
Renee Gamble
Director at BISCosgrove
Jeneve Frizzo – Principal at The Will and All
I have the great pleasure of working with Christine for a number of years now in a range of ways which includes our mutual commitment to the support of and contribution to the profession generally, succession lawyers in particular, and women lawyers to be more specific again. Christine is a joy to work with: motivated; thoughtful; whip-smart; always sensitive; always supportive, but a great realistic as well. She has an acutely insightful intellect and is a driven, interesting and effective lawyer and person. I have enjoyed the benefit of her support and championship, and am fortunate that our professional relationship has assumed elements of friendship in that context.
Jeneve Frizzo
Principal at The Will and All
S.L.
Christine Smyth is a can do solicitor. Her uncanny ability to look inside and outside of the box is extraordinary.
Christine has taken on Goliath and won in a manner which showcases her strengths in problem solving, strategizing and empowering her clients to achieve the best outcome possible.
You want Christine on your side, a very fine insightful, intelligent, articulated and highly skilled solicitor who communicates brilliantly with her clients, staff and barristers.
Thank you for listening to me and believing in me and taking on my cases when several other Gold Coast firms didn't want to help.
I have no hesitation in recommending Christine Smyth.
S.L.
JMT
Many thanks to Christine for your assistance with my recent estate dispute.
You were creative, professional, empathetic, and followed through promptly with everything that needed to be done, while being sensitive to my needs. I can highly recommend your skills and knowledge to anyone in the same situation.
Best wishes to all your staff.
JMT